DARREN PENNINGTON
A builder by trade, Darren won several Awards and Merits including NZ Apprentice of the Year in 1991 and again in 1992. Following his apprenticeship, Darren began work on commercial shop fit outs with one of New Zealand's most reputable shop fitters. He then went back to his initial passion for building residential homes, which led to the establishment of Mainline Construction in 1994.
Darren has now well and truly grown the business to the point where he retired from the tools many moons ago and now manages the company and projects along with co-Director Nigel Hanley.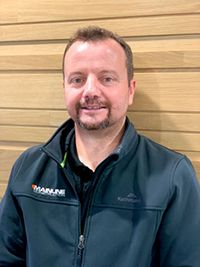 NIGEL HANLEY
Formerly a client of Mainline Construction, Nigel found out first-hand about the company's stringent standards and commitment to quality. A successful businessman, in 1984 Nigel established an IT services company that under his hand as founding Director grew to three national branches and 87 employees.
The sale of that company led Nigel in a new direction and he has been a director and shareholder in Mainline Construction since 2009. His previous experience in a business focused on growth and his invaluable skills in project management and client relationship building have been instrumental in taking Mainline Construction to the next level within the industry.